Here are six GREAT reasons to join Kel-West Academy of Taekwon-Do and Hapkido:
1. An Excellent Family Activity: Get in Shape, Become More Self-Confident, Peaceful And Respectful Of Others:


TAEKWON-DO (the art of "kicking feet and punching fists") is a Korean martial art for all ages. Benefits include: increased cardiovascular fitness, mental-discipline, self-confidence and self-esteem. Long-term Taekwon-Do training improves memory, concentration, school grades and helps reduce stress. Taekwon-Do can promote the healing of old injuries and can lead to increased health and peace of mind!

If you are new to the Central Okanagan, joining a martial arts school is a great way to meet new friends and increase your circle of contacts in the community!

If you are ambitious and/or have a career, your martial art contacts may help you get ahead. Listing on a resume that you are a Black-Belt is a "transferable skill" in occupations such as law enforcement, paramedics, athletics, the motion picture industry, security or wherever self-confidence, leadership or bravery is required.

HAPKIDO is a Korean self-defence martial art that teaches you how to defend yourself from ALL FOUR ranges of fighting (kicking, punching, grabbing and ground). Circular and linear in nature, Hapkido also gives you the option to strike or grapple; no other traditional self-defense martial art can make that claim !

Unlike Brazilian Jiu-jitsu, Hapkido (the art of coordinated power) does not advocate always going to the ground. You can defend yourself from a standing or sitting position and in fact, defeat a grappler or wrestler with hand or leg strikes, as well as groundwork. Hapkido training also incorporates weapons and sparring techniques. Therefore, self-control is an important part of the fundamentals.



2. All classes at KEL-WEST are taught or supervised by the school owner (an N.C.C.P. 'provincially' certified instructor), insuring high standards:


Here in the Okanagan, some martial art school owners give the impression that they actually 'teach,' and show up to all classes, but that isn't always the case. At Kel-West, the Head Instructor is also the school owner (Mr. Rus Smith, 3rd Degree Black-Belt, is an N.C.C.P. 'provincially' certified instructor with over 25 years experience) who teaches and supervises at all classes, insuring you get a high standard of instruction. All instructors at Kel-West Taekwon-Do are N.C.C.P. certified and have a reputation for producing excellent students.

Kel-West is the Central Okanagan's longest-running Taekwon-Do program, now in its 17th year of operation! Mr. Smith (and his assistants) have over 30 years of experience between them in both Taekwon-Do and Hapkido.We provide a LOWER 'teacher to student' ratio than most other Okanagan martial art schools.

Meanwhile, we advise all newcomers to Taekwon-Do and Hapkido to not be misled by an instructor's rank, alone. Just because the person is of a 'high rank' doesn't necessarily mean the instruction will be good. In fact, there are some 1st Degree Black-Belts out there who are excellent teachers, while regretfully, there are also some high-ranking instructors who basically teach 'garbage' and just want to take your money. Usually, after trying out the school for a week or two, you will eventually determine what instructor is right for you.

There is one rule or standard that always applies; a new student (or parent) should never be pressured into joining a certain school, especially over the phone. We at Kel-West allow you (the new student) to make up your own mind, then decide for yourself if you want to join. We also offer a free one week trial to help determine whether our school is right for you and also, whether you meet our pre-requisites for new students.



---
"The truth of all instruction is revealed through observing, not the instructor, but his students (or even his student's students?)."

-ED PARKER (pioneer of Kenpo)

---
3. We teach traditional TAEKWON-DO and HAPKIDO, along with the latest teaching methods! Change your thinking, then IMPROVE YOUR LIFE !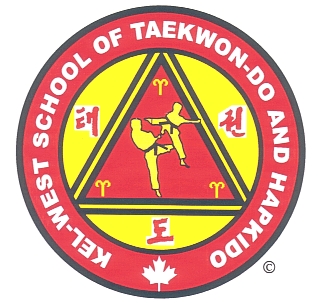 Kel-West Academy of Taekwon-Do and Hapkido (above) has entered a float at the Westside Daze Parade in Westbank, British Columbia, for many years, now, and has proven to be a crowd pleaser.


KEL-WEST offers seperate classes in both Taekwon-Do and Hapkido (year-round) for children, adults and advanced students.

At Kel-West, our approach towards martial arts over the years has been largely 'Jungian' in nature; (i.e. to put the 'humanistic' element back into martial arts) while helping our students a) 'return to (his or her) basic nature' and b) insuring that the Taekwon-Do training has dramatically improved every aspect of the person's life (even 'life' outside of martial arts!).

Fortunately, martial art training is one of the few contributing art-forms where people are learning transferable skills such as self-defence, discipline, humility and respect for human values.

No question, consistent training in Taekwon-Do and Hapkido helps develop a more peaceful world and a positive, healthy community, and in some cases, can help change people's lives !



4. STUDENTS AT KEL-WEST have the option of competing at tournaments and/or partaking in various TRAINING SEMINARS!


Students at KEL-WEST ACADEMY OF TAEKWON-DO AND HAPKIDO have won over 100 medals and trophies in competition since 1996, including several champions featured in the Kelowna Daily Courier, The Capital News, Westside Weekly and on CHBC Television. Mr. Smith has now coached students to gold medal wins (both patterns and sparring) at a record 14 consecutive tournaments! On the other hand, we also have some very good students who have trained with us for several years, but they do not attend tournaments. At Kel-West Taekwon-Do, we never force our students to compete, but for those who enjoy doing so, you do have that option.

Mr. Smith points out that competition is actually a very small part of the martial arts, but he adds: "competition can be a good thing, if it teaches good sportmanship, friendship, as well the willingness to learn from your expereinces ( both "good" and "bad?").

"Being a world champion and being a successful martial art instructor are two distinct and unrelated skills," Smith says. "History has shown that the world's most prolific coaches (i.e. Vince Lombardi, Scotty Bowman, Don Shula, etc.) usually had modest playing careers, while so-called retired sports 'champions' (i.e. Wayne Gretzky, Pele, etc. ) don't always make the best coaches."

Over the last few years, Kel-West has sponsored numerous local seminars on Free-Sparring, Self-Defence, Patterns, as well as specialized training courses for advanced students, instructor certification, etc., which have proven to be very popular!



5. HAPKIDO SELF-DEFENCE: (the Okanagan's first Hapkido school)


Our students are trained in HAPKIDO (the "art of coordinated power"), a Korean self-defence art that offers training at all ranges: (kicking, punching, grabbing and weapons). Hapkido is extremely compatible with G.T.F. Taekwon-Do and all other styles and backgrounds. All students (age 12+) at Kel-West are trained in both basic and intermediate Hapkido principles, including Nak-Bup (basic break-falling), Tan-Jon (energy) breathing exercises, joint-lock and deflecting exercises, throwing, and at more advanced levels, knife defences, pressure points, chokes, two-on-one defences and ground-work. We encourage all serious students of Taekwon-Do to investigate the art of Hapkido and strive to improve their self-defence skills. (Note: Kel-West is a member of the World Hapkido Association).


6. Earn INTERNATIONAL RANK RECOGNITION through the Global Taekwon-Do Federation (G.T.F.) and World Hapkido Association !


KEL-WEST is affiliated with the Global Taekwon-Do Federation, one of Canada's fastest growing Taekwon-Do associations. When you join our school, your G.T.F. belt rank is recognized in 10 Canadian provinces and more than 80 countries around the world! A G.T.F. school is non-political and usually very friendly and family oriented. Many of us have spouses, best friends, children, brothers and sisters, also training in the martial arts !

The World Hapkido Association offers OUTSTANDING instruction in the grappling art of Hapkido self-defence and our instructor, Master Tae Jung, 8th Dan, is a world-class "Master" in every sense of the word ! When Kel-West hosts a World Hapkido seminar, 4th, 5th and 6th Dan's are normally in attendance from every part of British Columbia and beyond !


TESTIMONIALS about KEL-WEST TAEKWON-DO AND HAPKIDO !

To receive a COMPLIMENTARY ONE-WEEK TRY-OUT, CALL: (250) 862-7851 or click below: